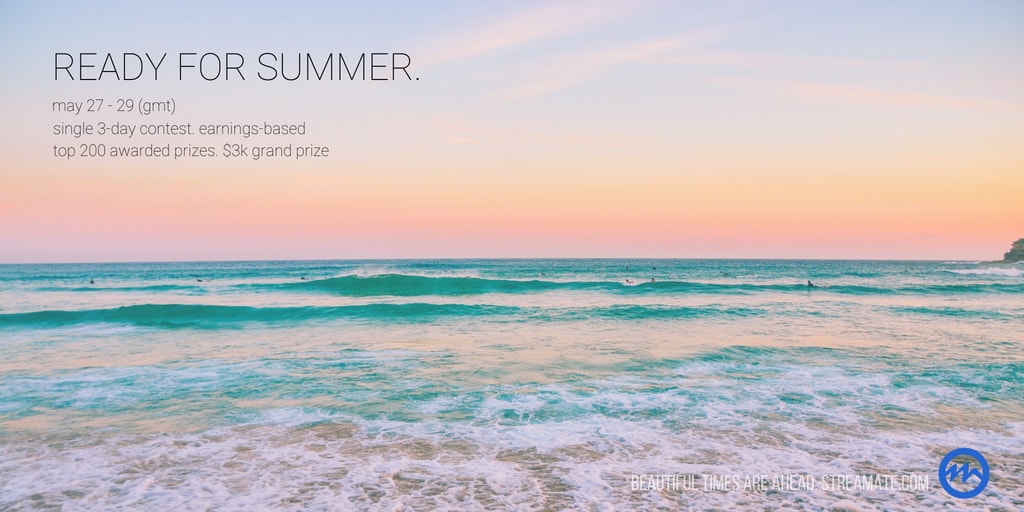 Graduations, vaykay, moving, weddings… this time of year is all about endings, new beginnings and the countdown to another epic summer season!
From May 27 – May 29 (gmt), Streamate will be hosting the READY FOR SUMMER CONTEST. In the words of Tiffany Haddish, "She reaaaady!"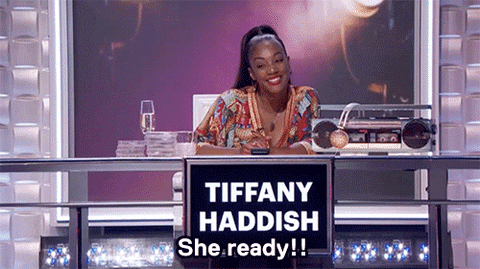 The Details
The Ready for Summer contest is a single, 3-day long event that kicks off on May 27th and concludes at the end of May 29th.
Contest start and end times are in GMT. Check out our contest leaderboard to view the countdown timer, or reference this handy GMT conversion chart to find out when the contest starts and ends in your specific time zone.
There is no minimum or maximum amount of hours in order to place in this contest, and you can work as many days as you wish.
Cash prizes will be awarded to the Top 200 models with the highest earnings at the end of this 3-day event.
PRIZE MENU
1st place- $3,000
2nd place- $2,500
3rd place- $2000
4th place- $1,500
5th place- $1,000
6th thru 10th place- $750
11th thru 20th place- $500
21st thru 50th place- $250
51st thru 100th place- $125
101st thru 200th place- $75
Earnings made through Video Sales, Cammodels, TopSpot adjustments, Partner Sites, or Gold Clubs will not qualify during this event.
All Streamate Models are eligible to participate and earn prizes during this event.
NOTE: A couple of things that I've noticed in previous contests that I felt important to mention here
(1) If you're going to stream with another performer or a guest performer, they MUST have the required documents uploaded to your account ahead of any live cam shows.
(2) Dual-streaming/multi-casting is not permitted. You may broadcast your shows from only 1 profile at a time. Simulcasting the same show onto multiple profiles is not permitted, and you put your account at risk of suspension by doing so. 
If you are ever uncertain as to whether or not something is permitted regarding your live cam shows on Streamate, please do not hesitate to reach out to our teams to check in advance- we're always happy to help. 🙂
Share the love! If you're participating in this contest, share your contest selfies with us on Twitter and Instagram using the hashtag, #smcontest.
GOOD LUCK EVERYONE!
https://streamaterecruiting.com/wp-content/uploads/2017/05/streamate-recruiting-logo-300x100.png
0
0
Vanessa Eve
https://streamaterecruiting.com/wp-content/uploads/2017/05/streamate-recruiting-logo-300x100.png
Vanessa Eve
2018-05-23 23:07:10
2018-05-24 17:13:26
*THAT'S HOT* READY-4-SUMMER CONTEST HAPPENING ON 5/27-5/29