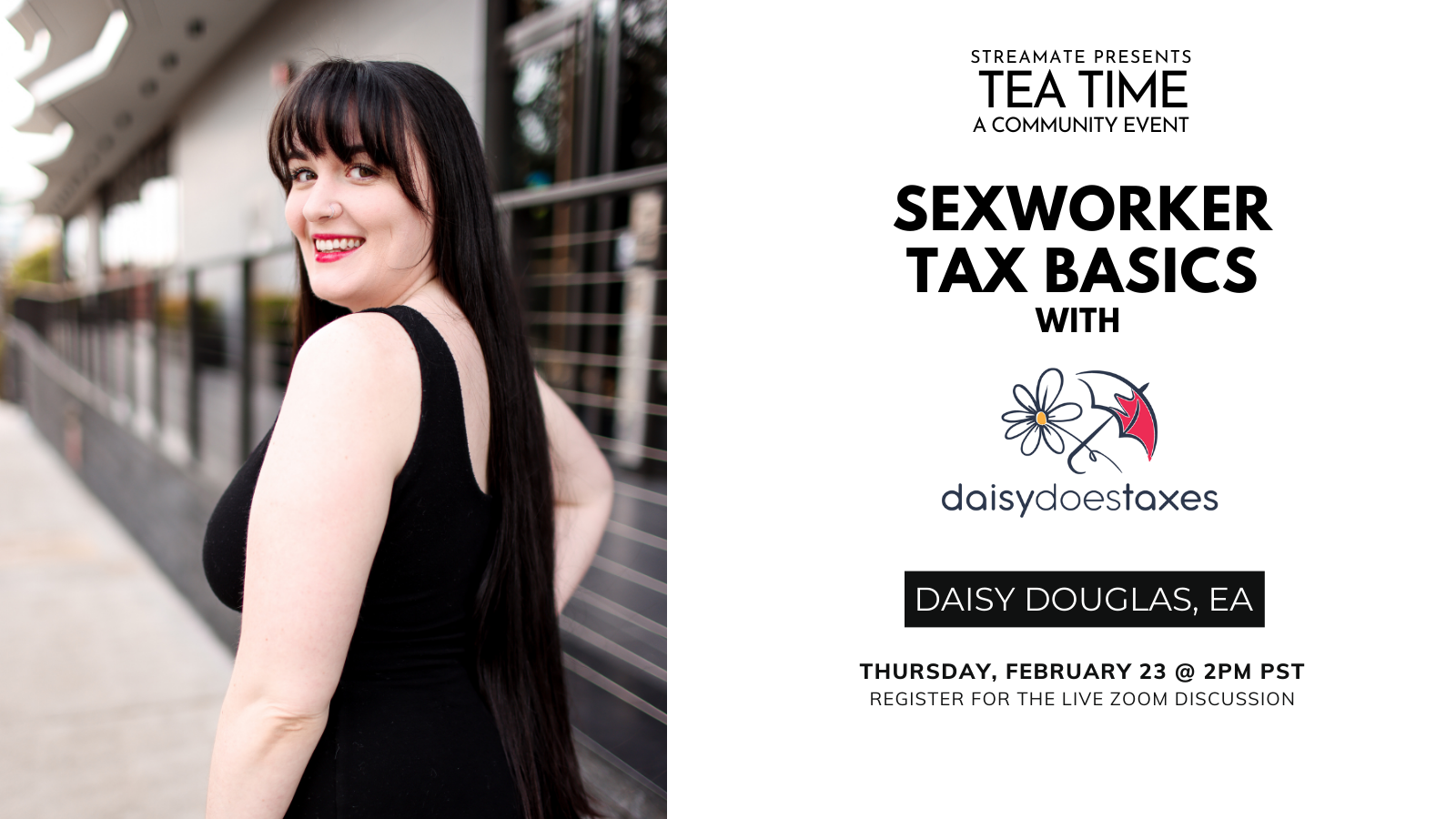 Live Discussion

"SW Tax Basics w/ Daisy Does Taxes"

Event Date

Thursday, February 23rd

2:00pm (Pacific Time) /5:00pm (Eastern Time)

Duration – 90mins

Register in advance

https://us02web.zoom.us/webinar/register/WN_HjWrPdSISze-ywetO1Asgg

Details

Please join us for our next TEA TIME virtual community event, presented by the Streamate Network!

Featured Speakers

Follow Daisy on Twitter

Follow Daisy on Instagram

New year, new possibilities, and a fresh opportunity to get your $$$ on-point!

Regardless of what facets of online s*xwork you've dipped into, we can all agree that filing taxes, in general, can feel like a pretty daunting task- especially when you're doing it alone.

In this segment, we will be walking you through some of the basics of filing taxes in the USA as an independent contractor in 2023 with the help of the uber-knowledgeable and talented Daisy Douglas, EA. Daisy is a content creator and founder of Daisy Does Taxes! Whether you are new to the industry or a seasoned pro, this is the perfect opportunity to brush up on the basics of filing taxes.

Additionally, we will be reserving some time during the segment for Daisy to answer, and hopefully demystify, some of your burning questions! If possible, please submit questions in advance by emailing vanessa@streamate.com with the subject, "Tax Question for Daisy."

Learn more about Daisy's services by going to daisydoestaxes.com .

Note: the information in this segment is intended for educational purposes, and pertains to performers who plan to file their taxes in the USA. Please consult with your local tax professional for your unique tax filing needs.

We'll see you there!

Advance registration required. After registering at the link above, you will receive a confirmation email containing information about joining the webinar.

ABOUT TEA TIME
Launched in January 2022, this monthly virtual event series explores a wide range of topics related to business, lifestyle, health, and beyond. Guest speakers will include performers, creators, experts, and community activists who will share their wisdom and experiences through candid, relatable roundtable conversation. Tea Time will take place on the last Thursday of each month, unless noted otherwise.