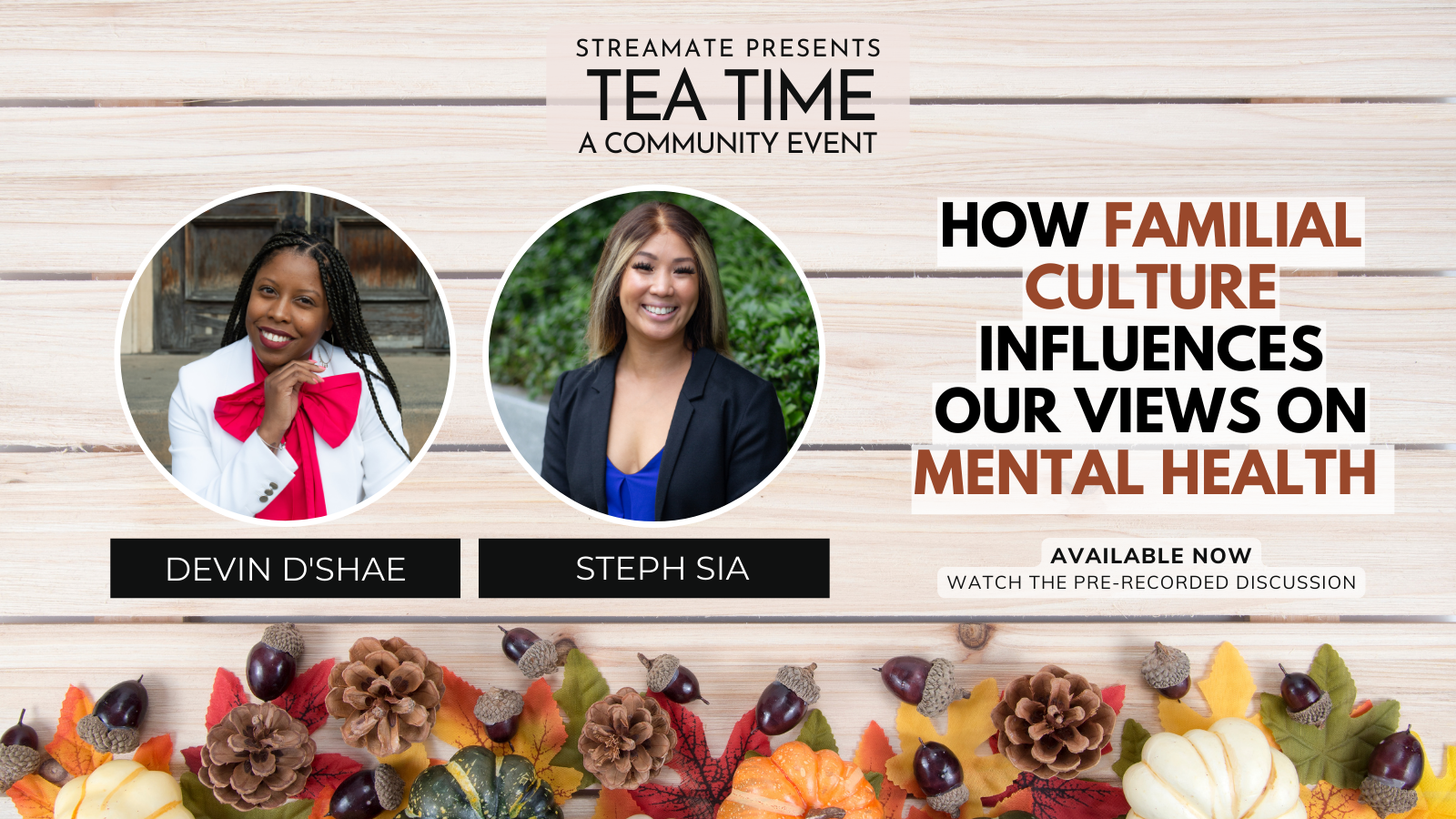 Pre-Recorded Discussion

"How Familial Culture Influences Our Views on Mental Health"

Release Date

Thursday, November 24th, 2022

WATCH NOW

Details

The November edition of TEA TIME virtual community event, presented by the Streamate Network, is now available for viewing on YouTube! Due to the overlap with the (US) Thanksgiving holiday, we pre-recorded this month's conversation so that you may watch at your convenience! Grab a plate, relax, and enjoy!

Featured Speakers

It's officially "that time of year:" matching flannel pajama sets, family photos, fireplace folklore, scintillating decorations, and impressive spreads of savory comfort foods. If we look beyond the commercial elements, the holiday season is a time that celebrates family customs and tradition. Familial culture can vary greatly between households (even when they share ethnic backgrounds), and plays a large part in the development of our personal identities, values, and beliefs.

The holidays in particular are a prime example of how our families have the ability to leave lasting impressions that carry over into adulthood and can be passed onto future generations. So how does our familial culture apply to other areas of our adult lives that have even broader reach, beyond the holidays, like mental health? How did the dialogue and examples set forth by our parents and other adult figures during our growing-up years contribute to our own views and awareness of mental health today? We share reflections and observations in this candid roundtable discussion.

ABOUT TEA TIME
Launched in January 2022, this monthly virtual event series explores a wide range of topics related to business, lifestyle, health, and beyond. Guest speakers will include performers, creators, experts, and community activists who will share their wisdom and experiences through candid, relatable roundtable conversation. Tea Time will take place on the last Thursday of each month from 11am-12:30pm (PST).