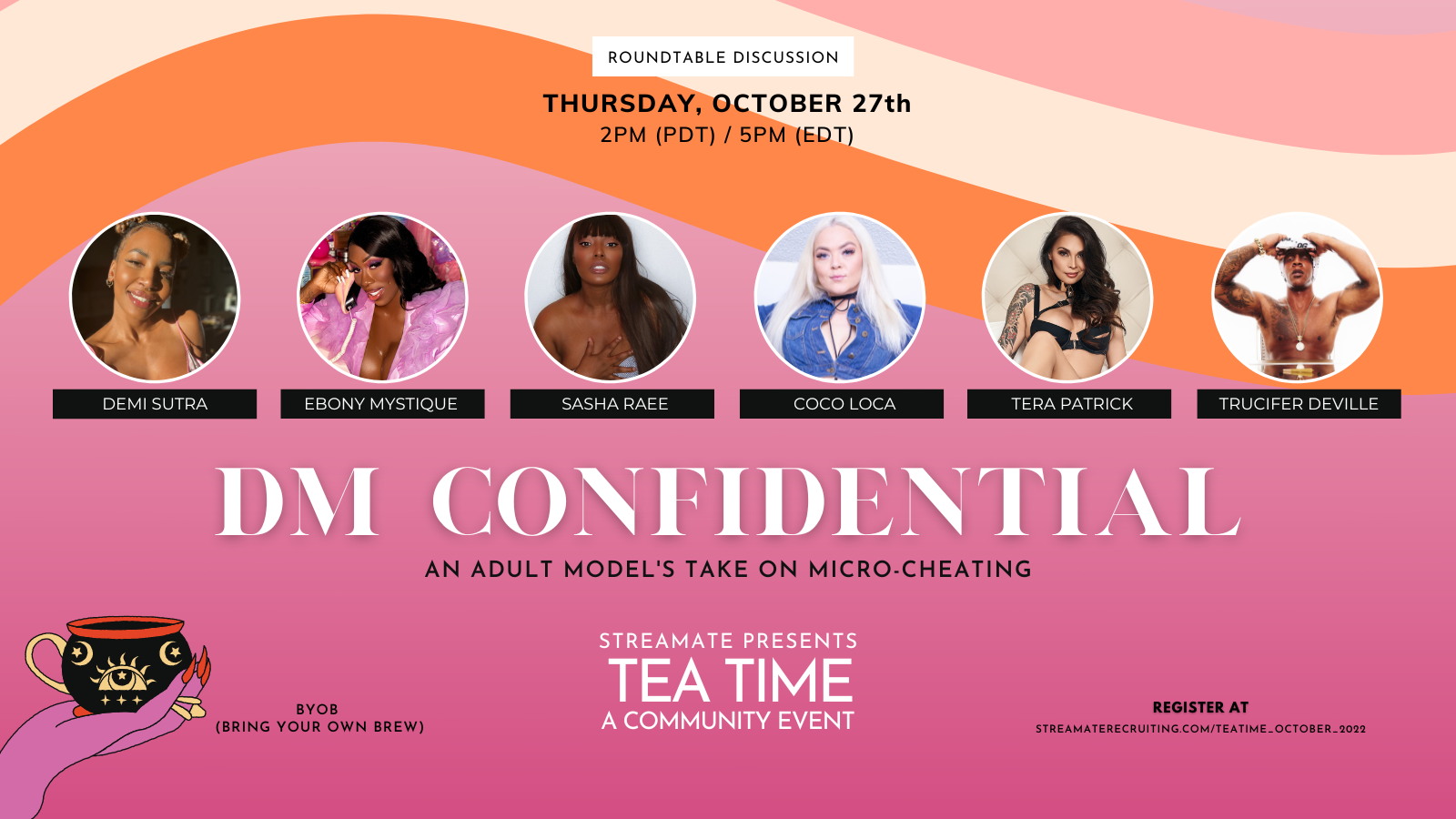 Live Discussion

"DM Confidential: An Adult Model's Take on Micro-Cheating"

Event Date

Thursday, October 27th

2:00pm (Pacific Time) /5:00pm (Eastern Time)

Duration – 90mins

Register in advance

https://us02web.zoom.us/webinar/register/WN_PCqCMvnnQ_m0LiDlHwR0fQ

Details

Please join us for our next TEA TIME virtual community event, presented by the Streamate Network!

Featured Speakers

What happens when you are the person who incidentally finds themself at the center of a micro-cheater's web? We chat with adult models/public figures as they share their perspectives of modern societal views on the controversial subject of micro-cheating. What happens when they've caught the attention of one coupled partner's eye, and inadvertently drawn the ire of another's? Is lavishing an adult/online persona with attention and money, in fact, "micro-cheating?" Should partners feel threatened by their spouse or partner following, commenting, DM'ing a public persona online? Are online personas a perceivable threat to someone else's relationship? What constitutes "crossing the line" in these modern online dynamics? What have online personas learned about relationships through their interactions with fans? Listen to the often untold side of the story in what is sure to be a lively community roundtable discussion!

BYOB – It is Halloween after all! Bring your favorite spooky brew of choice and pull up!

Advance registration required. After registering at the link above, you will receive a confirmation email containing information about joining the webinar. We hope to see you there!

ABOUT TEA TIME
Launched in January 2022, this monthly virtual event series explores a wide range of topics related to business, lifestyle, health, and beyond. Guest speakers will include performers, creators, experts, and community activists who will share their wisdom and experiences through candid, relatable roundtable conversation. Tea Time will take place on the last Thursday of each month from 11am-12:30pm (PST).