This is a tricky question. I'd say that if you are going to bring your (non-XXX industry) partner/significant other/bf/gf to an adult trade show with you, you have to be very clear about two things:
(1) your goals for the show
(2) your partner's role(s) during the show if they were to accompany you
I absolutely love meeting the special person (or in some cases, people) in your life- the person who supports you on the day to day. The person who always has your back. And sees you through your good and bad days. The person who knows you at your core: the real you, off-cam. I love catching a sense of your dynamic with this person when they help you with your coat or when you're canoodling on the other side of the table at dinner.
However, attending an adult tradeshow can be intense. You can feel a sense of urgency and excitement upon walking into an event- like, you need to make the most of your time and check everything off of your list that you need or want to accomplish. But is this possible with your partner at your side? Maybe. Yes. It depends on a few things.
First, I'd recommend approaching any adult tradeshow like this:
whether or not you are an active participant in the show, you are still working. You're a model in the industry. There are other models, companies, representatives present in the same room as you, and it is a rare opportunity to network, explore, learn, meet, and possibly even create new opportunities for yourself that you might not have been able to if you had stayed at home. If you're not logging on to cam while you're attending a show (or your work schedule is taking a big hit), then you should plan on making the most of the time you do have at the show. With some fun in between, of course. 😉
(1) WHAT ARE YOUR GOALS BY ATTENDING THIS SHOW?
Everyone has different reasons for attending shows. Some of them could be:
networking
"getting out there"/exposure/brand awareness
content opportunities
social enjoyment/attending social events/partying
making an appearance
new business opportunities
meeting fans
meeting companies
being a spectator
Your goals can differ between the various shows. Take time prior to the show to really figure out what you want to accomplish with this opportunity, and factor your partner's presence into those scenarios. For instance, I know that certain shows are more focused on social events and partying- this can be an excellent reason to bring my partner along versus shows where I know my goals and schedule will be heavy with 1-on-1 meetings (where my partner's presence would be inappropriate).
Your partner should always be on the same page as you regarding what your goals are, and be a source of support in these instances. If they are steering your participation around how they are feeling or what they want to do without respect for what you are trying to accomplish ("I don't want you to go to the Networking Happy Hour- you'll be talking to people and I'll be bored!"), then it's best to have a conversation with your partner ahead of time to avoid any sticky situations when you're at the actual event.
In these instances, absolutely consider your partner, but also put your needs first. There is always room to compromise. And if there isn't compromise, then it may be best to forego bringing them along.
(2) WHAT WILL YOUR PARTNER'S ROLE(S) BE DURING THE SHOW?
Support, right? They're there for moral support? Great! But what will that look like when you're actually at the show? Will they be hovering quietly behind you the entire time? Will they be talking over you, acting as your manager during conversations with industry peers?
As someone who has met a number of partners over the course of the years, I can tell you that there is a way to rub someone the wrong way- it happens. And whether I wanted to or not, I couldn't help but associate those experiences as a reflection of that performer, regardless of the fact that it was their partner who was acting inappropriately. It is up to you to get everything zipped up tight by showtime- not have your bf freak out on me as to why you're not on Page 1 every time you log in in the middle of a showroom floor.
That said, it is possible to have a successful dynamic at adult shows with your partner if you define their role ahead of time. Some examples could be:
a source of moral and emotional support
schedule manager/making sure you're on time/going over day's agenda
assistance with handling cam affairs (emails, etc.) while offline
help with social media/taking pics, vids, etc./grabbing content of you in action
help with making sure your basic needs are fulfilled (did you eat today?)
a date to social events
Consider your partner's aptitude to adapt to social settings as well. If you have a partner who has a tendency to be awkward or introverted in social settings, that's okay! But if you're a social butterfly, your mobility may be limited if you are constantly checking in on your partner. I'm not saying to ditch your partner, but consider how they'd fare during different scenarios or what their involvement would be, and plan how you'd effectively get the most out of your time there.
In short, have a game plan ahead of time, set boundaries, goals and expectations, and share this with your partner. You can plan together. You can still function as a team without being joined at the hip for the entire duration of the show. Shows can be an excellent opportunity to get in front of the people who matter to you, so don't be afraid to prioritize your needs accordingly.
A little advice from my partner:
"Occupy yourself. Find ways that fill your time so your partner doesn't feel that they have to tend to you. But be punctual and available for your partner's down time when they get a little." 
XO,
Vanessa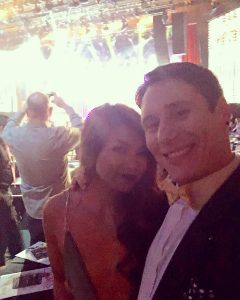 https://streamaterecruiting.com/wp-content/uploads/2017/05/streamate-recruiting-logo-300x100.png
0
0
Vanessa Eve
https://streamaterecruiting.com/wp-content/uploads/2017/05/streamate-recruiting-logo-300x100.png
Vanessa Eve
2017-12-08 19:38:59
2018-05-01 19:56:51
Performer Life: "Should I Bring My Partner to Adult Trade Shows with Me?"