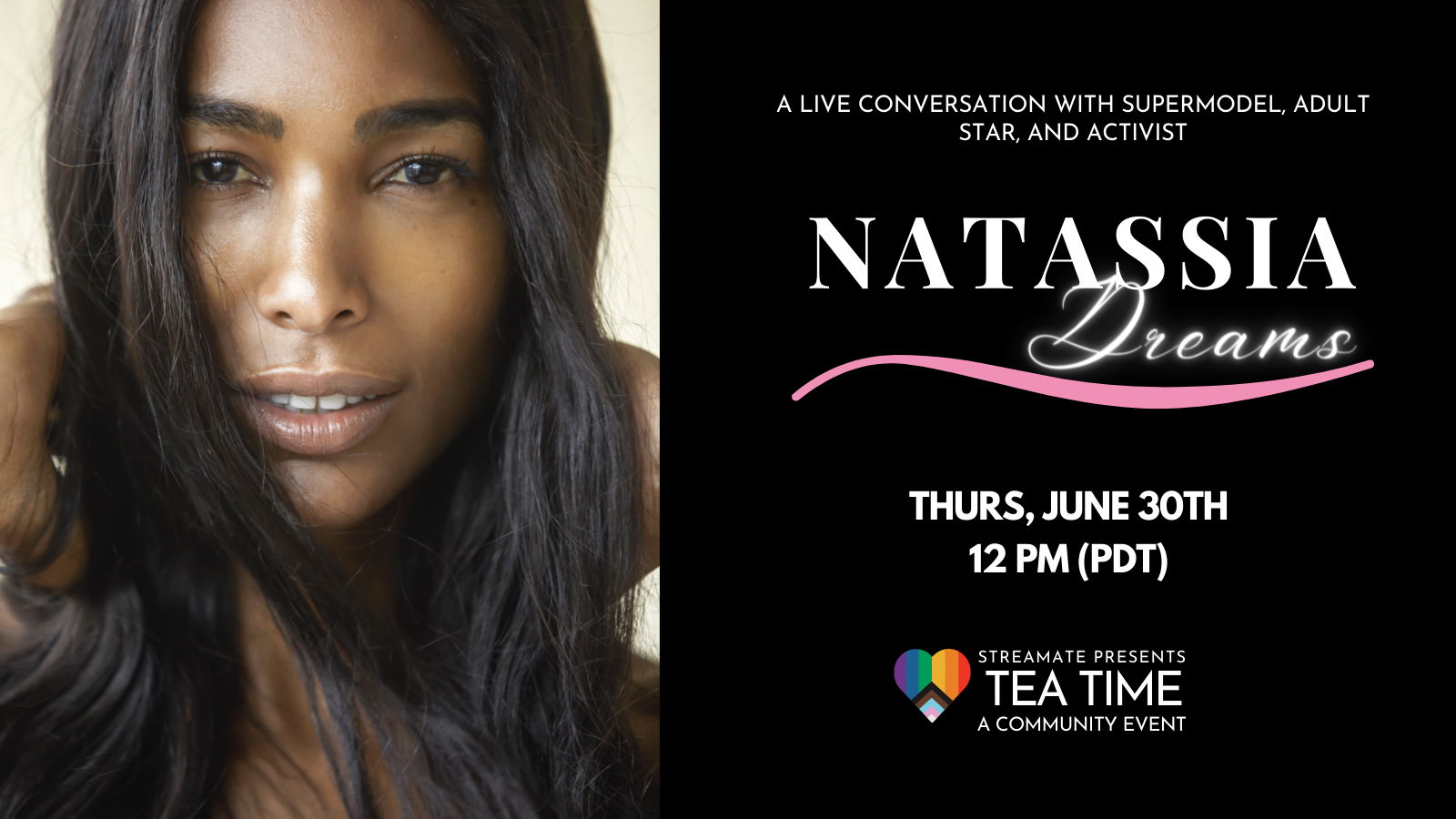 Live Conversation: Natassia Dreams

Event Date

Thursday, June 30th

12:00pm (Pacific Time) / 3:00pm (Eastern Time) / 9:00pm (CET)

Duration – 90mins

Register in advance

https://us02web.zoom.us/webinar/register/WN_WM7w5rX6QUCk2WE1SIxkzw

Details

Please join us for our next TEA TIME virtual community event, presented by the Streamate Network!

June is Pride Month, and we are very pleased to be speaking with this month's special guest- supermodel, adult actress, director, and trans activist, Natassia Dreams!

From ad campaigns on Times Square billboards, to strutting down high-fashion runways, inking brand partnerships with one of the most recognized names in adult, and her expansive body of work both in front of- and behind the camera, Natassia's journey thus far has certainly been one for the books. In this 90-minute segment, we connect with Natassia to learn about her beginnings, her illustrious career in the worlds of fashion and adult, and her views on current trans representation in the adult industry.

We will include a bit of time for audience Q&A toward the end of our chat, or registered attendees may submit their questions for Natassia in advance by emailing vanessa@streamate.com .

Rules for the group discussion:
All attendees must be 18+ to participate
Keep your mic muted unless you are actively speaking
Be respectful and considerate of others
Refrain from talking over others- allow each participant to articulate their thoughts before chiming in
No doxxing or sharing sensitive/private info about yourself or others (ex. legal name, exact geo location, etc.)
Keep in mind that this conversation is open to all performers, regardless of their chosen platform(s). Hence, the conversation may include references or info that's specific to other platforms.
Please redirect any support-related questions to Streamate Model Support: smsupport@streamatemodels.com or go to streamatehelp.com/support .
*By registering for this event, you agree to follow the rules as listed above.

Advance registration required. After registering at the link above, you will receive a confirmation email containing information about joining the webinar. We hope to see you there!

Note: this event is limited to those who work in sexwork and/or the adult industry. All registered participants will be verified prior to the live event. We reserve the right to refuse registration if we suspect you are not a performer, SW'er, or a member of the adult industry. Any registration disputes may be handled by contacting the event host directly.

About Tea Time

Launched in January 2022, this monthly virtual event series explores a wide range of topics related to business, lifestyle, health, and beyond. Guest speakers will include performers, creators, experts, and community activists who will share their wisdom and experiences through candid, relatable roundtable conversation. Tea Time will take place on the last Thursday of each month from 11am-12:30pm (Pacific Time), or as notated. This event is open to all performers (regardless of their chosen platform). Keep an eye out on Streamate's official social media channels for future announcements!