Vicky Vixxx
RESUME
Fetish model, producer, webcam model, professional dominatrix, studio owner, entrepreneur, self-professed shoe fiend, dedicated Mom.

PART ONE

PART TWO

Content Disclaimer: The views and opinions expressed in this video are those of the Interviewee, and do not necessarily reflect or represent the views and opinions held by  Streamate (Streamates Ltd.).  This content is intended for educational or informative purposes.

I met Vicky for the first time in person at the 2015 Exxxotica Convention in Dallas, TX where she was signing for a very rare booth hosted by the Streamate Network. Vicky Vixxx is a class-act all the way: she's poised and professional, articulate, takes a sound approach to all of her business endeavors, and she aims to please.

Vicky was introduced to the adult industry in late-2011 by an unexpected source: a friend in her mom's group. A nanny at the time, Vicky was making $300 per week and held a teaching degree. When her employer gave her 2-days' notice that she was no longer going to have a job, Vicky revisited the possibility of working from home as a webcam model.

Now in her 6th year, this performer-extraordinaire is ready to evolve wherever the industry takes her.
"When people ask me when I'll ever get out of the Industry, I'm like, the Industry isn't going anywhere anytime soon and neither am I."
Vicky has recently received 2 nominations from the 2017 XBiz Cam Awards for 'Fetish Cam Model of the Year' and 'Milf Cam Model of the Year.'
Update on 6/1:  Congratulations to Vicky for winning 'Fetish Cam Model of the Year' at the 2017 Xbiz Cam Awards in Miami! 'You GO, girl!'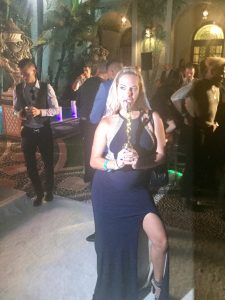 Watch the 2-part interview with Vicky Vixxx, and be sure to keep up with Vicky to track her current and future endeavors.
SOCIAL
Website: www.therealvickyvixxx.com

Twitter: @realvickyvixxx

Instagram: @goddessvickyv

Snapchat: @luckyvickyxxx